Pete's Story
Pete's Ride: 25 Miles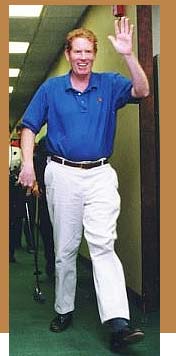 Pete Farricker was diagnosed with ALS in the spring of 1999 when he was 43 years old. Peter was a member of the 1983 World Champion Ultimate Frisbee Team, a scratch golfer and two-time club champion. After two years of this devastating illness, Peter was limited to an electric wheelchair, and had lost the use of his arms and legs. Pete continued to work four days a week for Golf Digest and had shifted his responsibilities from being the magazine's Equipment Editor to being an editor of many of the magazine's articles.

The Farricker family was very mobile on the roads, as wife, Mandy, and three-year-old Jack often went for rides on their bikes to keep up with Pete in his wheelchair. He still went for walks in his wheelchair with his dog, Rufus, going down to Fairfield, Connecticut beach, enjoying his independence and time to himself. He had a remarkable circle of friends, co-workers and family members who could not do enough to help Pete and his family deal with his condition.

Pete's spirit was incredible. He had a terrific sense of humor, and was always thinking of others and all they did for him. Other than his physical condition, Pete remarked that emotionally and spiritually he was in the best shape he had ever been in his entire life.

Pete passed away on June 29, 2001 and we know he would be thrilled to be part of this effort to raise money for research to help others.